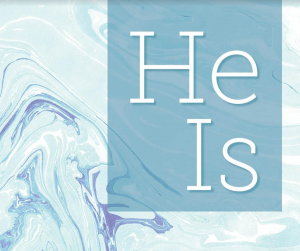 He is right here with us. God Himself has chosen to live here on earth with us. That's what Immanuel means: God with us. He's with us in the boat on the sea. He's with us on the hillside. He's with us in the synagogue. He's with us as we walk from one town to another.
He certainly has changed our thinking about what God is like. Who would have thought He could be so gentle, yet strong? We never thought of God being hungry or cold or sad. But He sheds tears over His beloved city of Jerusalem and the people in it. He reaches out to scoundrels who don't deserve His love. Tax collectors, harlots, demon possessed, lepers. They all matter to Him. He takes time for children and the elderly. He even interacts with Samaritans (who are mostly despised by the Jews).
He is with us in our sorrow, lamenting over the death of our friend, Lazarus. He is with us on happy occasions like the wedding at Cana. He knows how to handle our times of bickering and complaining. He doesn't give up on us, even when we ask questions that are out of line, or we have times of doubt.
God is with us. Part of our everyday lives. He is so dear and so close we can't imagine life without Him. Immanuel has changed us. What more does He plan to do here on earth?